FOOD STYLING | CRAFT SERVICES | ON AIR DEMONSTRATIONS
A Food Stylist creates a balance of all the components: Directors, cameras, HD lights, food chemistry, temperature, and of course the talent. Sometimes it is like watching an orchestrated dance.
Experience:
"I have 25 years of culinary experience working in just about all kitchens and television environments. I know that changes happen frequently and most often at the worst times, especially on the 24th hour with something close to impossible to pull off. Fortunately, I have a thing for "Making it So" and an extensive knowledge of food properties. With the attention to detail gene, plus an inexhaustible work ethic, production companies have come to rely on my services.
Over the years working closely with advertising agencies, production companies, and live television networks, I can confidently tell you that my team and I will make any type of project or shoot smooth and fluent."
As your food stylist my mission is:
– To gather as much information as possible and clarify any demonstration needs.
– To have a complete understanding of the budget for the food and labor costs, plus time management which plays a key role on any food shoot.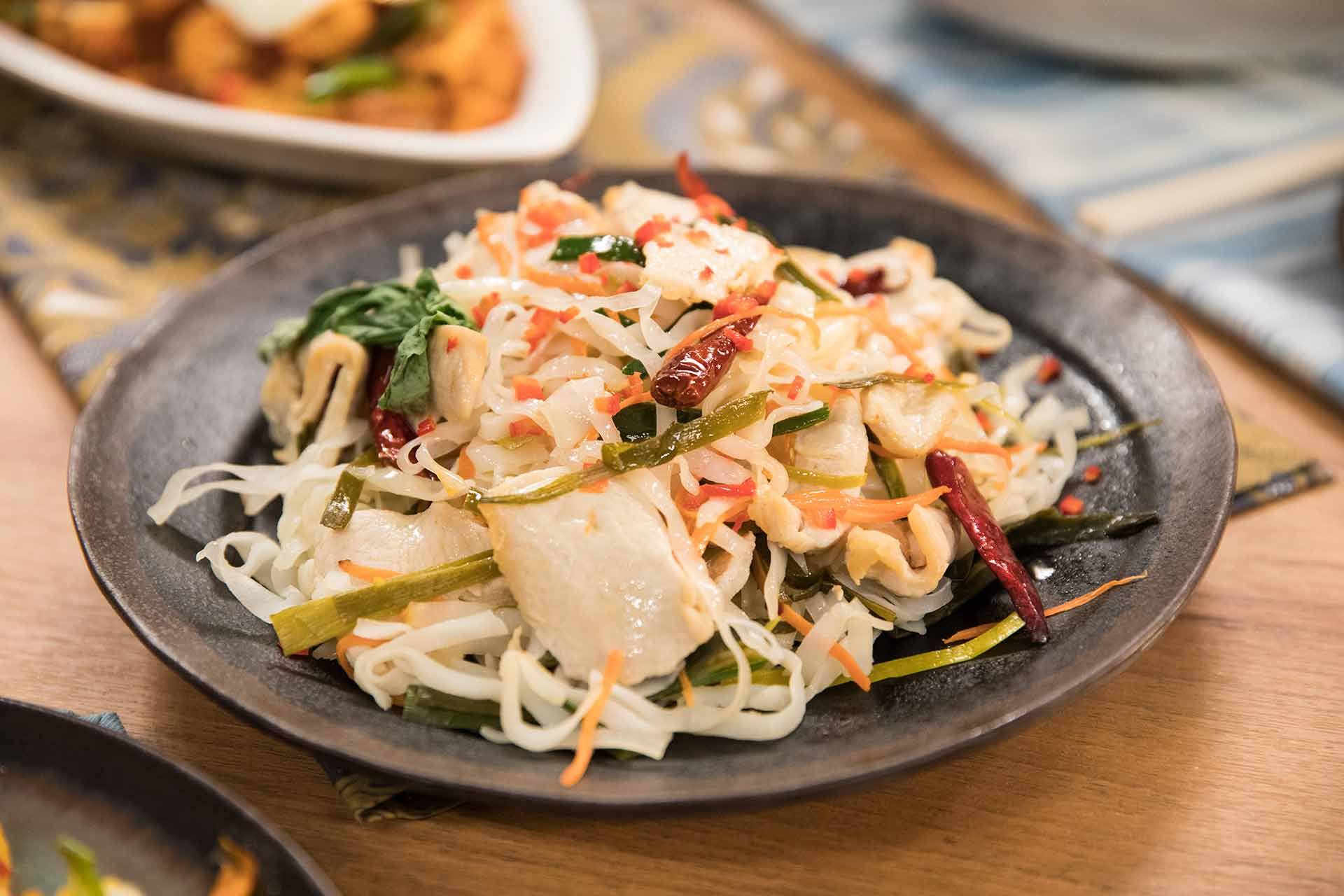 Craft Services
Let's face it, a happy and productive crew runs on their bellies. Craft Services aka "Krafty" is an important part of any production. We offer full Craft Service and will meet any budget in order to accommodate your needs.
It is common to hear from clients and crew, that Saute4u is not not your average craft service, we are so much more.
On Air Demonstrations
Experience:
The combination of knowledge, capacity to establish a quick rapport with a wide variety of people and her positive persuasion not only makes Kristina likable but makes the product more desirable to the potential customer. Kristina simultaneously showcases features and benefits, value and usefulness of the product in such a way that generates interest. In turn, giving customers an incentive to buy, enhancing the shopping experience and boost sales.
<iframe scrolling="no" frameborder="0" allowfullscreen webkitallowfullscreen mozallowfullscreen allow="autoplay; fullscreen" src="https://w3.cdn.anvato.net/player/prod/v3/anvload.html?key=eyJtIjoiTElOIiwicCI6IiIsInYiOiIxMzAwNzIyIiwiYW52YWNrIjoiZ3JEN3pRTjdxeDFKMlVYRzhlVWttU28zbFAxQVJCYW8iLCJwbHVnaW5zIjp7ImRmcCI6eyJjbGllbnRTaWRlIjp7ImFkVGFnVXJsIjoiaHR0cHM6Ly9wdWJhZHMuZy5kb3VibGVjbGljay5uZXQvZ2FtcGFkL2Fkcz9zej0xeDEwMDAmaXU9LzU2NzgvbWcud2ZsYS9kYXl0aW1lJmN1c3RfcGFyYW1zPWNvaWQlM0Q5OTM5MDk4NTUlMjZ2aWRjYXQlM0RkYXl0aW1lJmltcGw9cyZnZGZwX3JlcT0xJmVudj12cCZvdXRwdXQ9dmFzdCZ1bnZpZXdlZF9wb3NpdGlvbl9zdGFydD0xJnZpZD0xMzAwNzIyJmNtc2lkPSZ1cmw9W3JlZmVycmVyX3VybF0mZGVzY3JpcHRpb25fdXJsPWh0dHBzOi8vd3d3LndmbGEuY29tL2RheXRpbWUvZ2FyZGVuLW1lZGxleS1zbGlkZXJzLzk5NDg4OTIyNyZjaXVfc3pzPTcyOHg5MCwzMDB4MjUwJmFkX3J1bGU9MCZ2cG9zPXByZXJvbGwmY29pZD05OTM5MDk4NTUmcGdpZD05OTQ4ODkyMjcmY29ycmVsYXRvcj1bdGltZXN0YW1wXSJ9fSwiY29tc2NvcmUiOnsiY2xpZW50SWQiOiI2MDM2NDM5IiwibnNfc3RfY2kiOiIxMzAwNzIyIiwibnNfc3RfY2wiOiIwIiwibnNfc3RfZ2UiOiJEYXl0aW1lIiwibnNfc3Rfc3QiOiJXRkxBIiwiYzMiOiJodHRwczovL3d3dy53ZmxhLmNvbSIsImM0IjoiKm51bGwiLCJjNiI6IipudWxsIn19LCJodG1sNSI6dHJ1ZSwidG9rZW4iOiIgIn0%3D" width ="640" height="360"></iframe>
<iframe scrolling="no" frameborder="0" allowfullscreen webkitallowfullscreen mozallowfullscreen allow="autoplay; fullscreen" src="https://w3.cdn.anvato.net/player/prod/v3/anvload.html?key=eyJtIjoiTElOIiwicCI6IiIsInYiOiIxMjY3NTQ4IiwiYW52YWNrIjoiZ3JEN3pRTjdxeDFKMlVYRzhlVWttU28zbFAxQVJCYW8iLCJwbHVnaW5zIjp7ImRmcCI6eyJjbGllbnRTaWRlIjp7ImFkVGFnVXJsIjoiaHR0cHM6Ly9wdWJhZHMuZy5kb3VibGVjbGljay5uZXQvZ2FtcGFkL2Fkcz9zej0xeDEwMDAmaXU9LzU2NzgvbWcud2ZsYS9kYXl0aW1lJmN1c3RfcGFyYW1zPWNvaWQlM0Q5OTQ0NDI4NjklMjZ2aWRjYXQlM0RkYXl0aW1lJmltcGw9cyZnZGZwX3JlcT0xJmVudj12cCZvdXRwdXQ9dmFzdCZ1bnZpZXdlZF9wb3NpdGlvbl9zdGFydD0xJnZpZD0xMjY3NTQ4JmNtc2lkPSZ1cmw9W3JlZmVycmVyX3VybF0mZGVzY3JpcHRpb25fdXJsPWh0dHBzOi8vd3d3LndmbGEuY29tL2RheXRpbWUvZmVlbC1nb29kLXNhbG1vbl8yMDE4MDIyNzExNDgwMTk1Mi85OTUxMjc2MzAmY2l1X3N6cz03Mjh4OTAsMzAweDI1MCZhZF9ydWxlPTAmdnBvcz1wcmVyb2xsJmNvaWQ9OTk0NDQyODY5JnBnaWQ9OTk1MTI3NjMwJmNvcnJlbGF0b3I9W3RpbWVzdGFtcF0ifX0sImNvbXNjb3JlIjp7ImNsaWVudElkIjoiNjAzNjQzOSIsIm5zX3N0X2NpIjoiMTI2NzU0OCIsIm5zX3N0X2NsIjoiMCIsIm5zX3N0X2dlIjoiRGF5dGltZSIsIm5zX3N0X3N0IjoiV0ZMQSIsImMzIjoiaHR0cHM6Ly93d3cud2ZsYS5jb20iLCJjNCI6IipudWxsIiwiYzYiOiIqbnVsbCJ9fSwiaHRtbDUiOnRydWUsInRva2VuIjoiICJ9" width ="640" height="360"></iframe>
<iframe scrolling="no" frameborder="0" allowfullscreen webkitallowfullscreen mozallowfullscreen allow="autoplay; fullscreen" src="https://w3.cdn.anvato.net/player/prod/v3/anvload.html?key=eyJtIjoiTElOIiwicCI6IiIsInYiOiI5MDg5NDciLCJhbnZhY2siOiJnckQ3elFON3F4MUoyVVhHOGVVa21TbzNsUDFBUkJhbyIsInBsdWdpbnMiOnsiZGZwIjp7ImNsaWVudFNpZGUiOnsiYWRUYWdVcmwiOiJodHRwczovL3B1YmFkcy5nLmRvdWJsZWNsaWNrLm5ldC9nYW1wYWQvYWRzP3N6PTF4MTAwMCZpdT0vNTY3OC9tZy53ZmxhL2RheXRpbWUmY3VzdF9wYXJhbXM9Y29pZCUzRDEwNTEyODU1MTklMjZ2aWRjYXQlM0RkYXl0aW1lJmltcGw9cyZnZGZwX3JlcT0xJmVudj12cCZvdXRwdXQ9dmFzdCZ1bnZpZXdlZF9wb3NpdGlvbl9zdGFydD0xJnZpZD05MDg5NDcmY21zaWQ9JnVybD1bcmVmZXJyZXJfdXJsXSZkZXNjcmlwdGlvbl91cmw9aHR0cHM6Ly93d3cud2ZsYS5jb20vZGF5dGltZS9xdWlub2EtY29uZmV0dGktd3JhcHNfMjAxODAzMTYxMDA2NTU2OTgvMTA1MTkzOTUxOSZjaXVfc3pzPTcyOHg5MCwzMDB4MjUwJmFkX3J1bGU9MCZ2cG9zPXByZXJvbGwmY29pZD0xMDUxMjg1NTE5JnBnaWQ9MTA1MTkzOTUxOSZjb3JyZWxhdG9yPVt0aW1lc3RhbXBdIn19LCJjb21zY29yZSI6eyJjbGllbnRJZCI6IjYwMzY0MzkiLCJuc19zdF9jaSI6IjkwODk0NyIsIm5zX3N0X2NsIjoiMCIsIm5zX3N0X2dlIjoiRGF5dGltZSIsIm5zX3N0X3N0IjoiV0ZMQSIsImMzIjoiaHR0cHM6Ly93d3cud2ZsYS5jb20iLCJjNCI6IipudWxsIiwiYzYiOiIqbnVsbCJ9fSwiaHRtbDUiOnRydWUsInRva2VuIjoiICJ9" width ="640" height="360"></iframe>
<iframe scrolling="no" frameborder="0" allowfullscreen webkitallowfullscreen mozallowfullscreen allow="autoplay; fullscreen" src="https://w3.cdn.anvato.net/player/prod/v3/anvload.html?key=eyJtIjoiTElOIiwicCI6IiIsInYiOiIxNDE5Njg1IiwiYW52YWNrIjoiZ3JEN3pRTjdxeDFKMlVYRzhlVWttU28zbFAxQVJCYW8iLCJwbHVnaW5zIjp7ImRmcCI6eyJjbGllbnRTaWRlIjp7ImFkVGFnVXJsIjoiaHR0cHM6Ly9wdWJhZHMuZy5kb3VibGVjbGljay5uZXQvZ2FtcGFkL2Fkcz9zej0xeDEwMDAmaXU9LzU2NzgvbWcud2ZsYS9kYXl0aW1lJmN1c3RfcGFyYW1zPWNvaWQlM0Q5OTM4MTY4NTAlMjZ2aWRjYXQlM0RkYXl0aW1lJmltcGw9cyZnZGZwX3JlcT0xJmVudj12cCZvdXRwdXQ9dmFzdCZ1bnZpZXdlZF9wb3NpdGlvbl9zdGFydD0xJnZpZD0xNDE5Njg1JmNtc2lkPSZ1cmw9W3JlZmVycmVyX3VybF0mZGVzY3JpcHRpb25fdXJsPWh0dHBzOi8vd3d3LndmbGEuY29tL2RheXRpbWUvcGVhY2h5LXBvcmstdGVuZGVybG9pbl8yMDE4MDIyNzEwNTg0MDE2My85OTQ4MTUyMDAmY2l1X3N6cz03Mjh4OTAsMzAweDI1MCZhZF9ydWxlPTAmdnBvcz1wcmVyb2xsJmNvaWQ9OTkzODE2ODUwJnBnaWQ9OTk0ODE1MjAwJmNvcnJlbGF0b3I9W3RpbWVzdGFtcF0ifX0sImNvbXNjb3JlIjp7ImNsaWVudElkIjoiNjAzNjQzOSIsIm5zX3N0X2NpIjoiMTQxOTY4NSIsIm5zX3N0X2NsIjoiMCIsIm5zX3N0X2dlIjoiRGF5dGltZSIsIm5zX3N0X3N0IjoiV0ZMQSIsImMzIjoiaHR0cHM6Ly93d3cud2ZsYS5jb20iLCJjNCI6IipudWxsIiwiYzYiOiIqbnVsbCJ9fSwiaHRtbDUiOnRydWUsInRva2VuIjoiICJ9" width ="640" height="360"></iframe>
<iframe scrolling="no" frameborder="0" allowfullscreen webkitallowfullscreen mozallowfullscreen allow="autoplay; fullscreen" src="https://w3.cdn.anvato.net/player/prod/v3/anvload.html?key=eyJtIjoiTElOIiwicCI6IiIsInYiOiIxNzMyMTE3IiwiYW52YWNrIjoiZ3JEN3pRTjdxeDFKMlVYRzhlVWttU28zbFAxQVJCYW8iLCJwbHVnaW5zIjp7ImRmcCI6eyJjbGllbnRTaWRlIjp7ImFkVGFnVXJsIjoiaHR0cHM6Ly9wdWJhZHMuZy5kb3VibGVjbGljay5uZXQvZ2FtcGFkL2Fkcz9zej0xeDEwMDAmaXU9LzU2NzgvbWcud2ZsYS9kYXl0aW1lJmN1c3RfcGFyYW1zPWNvaWQlM0QxMDMwMjcwMTM3JTI2dmlkY2F0JTNEZGF5dGltZSZpbXBsPXMmZ2RmcF9yZXE9MSZlbnY9dnAmb3V0cHV0PXZhc3QmdW52aWV3ZWRfcG9zaXRpb25fc3RhcnQ9MSZ2aWQ9MTczMjExNyZjbXNpZD0mdXJsPVtyZWZlcnJlcl91cmxdJmRlc2NyaXB0aW9uX3VybD1odHRwczovL3d3dy53ZmxhLmNvbS9kYXl0aW1lL2Nob2NvbGF0ZS1kaXBwZWQtY2hlcnJ5LW1pY2VfMjAxODAzMTIwNDE0MzU4MC8xMDMwNTA0MTMxJmNpdV9zenM9NzI4eDkwLDMwMHgyNTAmYWRfcnVsZT0wJnZwb3M9cHJlcm9sbCZjb2lkPTEwMzAyNzAxMzcmcGdpZD0xMDMwNTA0MTMxJmNvcnJlbGF0b3I9W3RpbWVzdGFtcF0ifX0sImNvbXNjb3JlIjp7ImNsaWVudElkIjoiNjAzNjQzOSIsIm5zX3N0X2NpIjoiMTczMjExNyIsIm5zX3N0X2NsIjoiMCIsIm5zX3N0X2dlIjoiRGF5dGltZSIsIm5zX3N0X3N0IjoiV0ZMQSIsImMzIjoiaHR0cHM6Ly93d3cud2ZsYS5jb20iLCJjNCI6IipudWxsIiwiYzYiOiIqbnVsbCJ9fSwiaHRtbDUiOnRydWUsInRva2VuIjoiICJ9" width ="640" height="360"></iframe>
<iframe scrolling="no" frameborder="0" allowfullscreen webkitallowfullscreen mozallowfullscreen allow="autoplay; fullscreen" src="https://w3.cdn.anvato.net/player/prod/v3/anvload.html?key=eyJtIjoiTElOIiwicCI6IiIsInYiOiI4NjE2OTMiLCJhbnZhY2siOiJnckQ3elFON3F4MUoyVVhHOGVVa21TbzNsUDFBUkJhbyIsInBsdWdpbnMiOnsiZGZwIjp7ImNsaWVudFNpZGUiOnsiYWRUYWdVcmwiOiJodHRwczovL3B1YmFkcy5nLmRvdWJsZWNsaWNrLm5ldC9nYW1wYWQvYWRzP3N6PTF4MTAwMCZpdT0vNTY3OC9tZy53ZmxhL2RheXRpbWUmY3VzdF9wYXJhbXM9Y29pZCUzRDEwNTE1MTM5MjElMjZ2aWRjYXQlM0RkYXl0aW1lJmltcGw9cyZnZGZwX3JlcT0xJmVudj12cCZvdXRwdXQ9dmFzdCZ1bnZpZXdlZF9wb3NpdGlvbl9zdGFydD0xJnZpZD04NjE2OTMmY21zaWQ9JnVybD1bcmVmZXJyZXJfdXJsXSZkZXNjcmlwdGlvbl91cmw9aHR0cHM6Ly93d3cud2ZsYS5jb20vZGF5dGltZS9zaHJpbXAtcGlxdWFudC1mcm9tLXBvbWlfMjAxODAzMTYxMDQzMzU5NzEvMTA1MjEzMzA3MCZjaXVfc3pzPTcyOHg5MCwzMDB4MjUwJmFkX3J1bGU9MCZ2cG9zPXByZXJvbGwmY29pZD0xMDUxNTEzOTIxJnBnaWQ9MTA1MjEzMzA3MCZjb3JyZWxhdG9yPVt0aW1lc3RhbXBdIn19LCJjb21zY29yZSI6eyJjbGllbnRJZCI6IjYwMzY0MzkiLCJuc19zdF9jaSI6Ijg2MTY5MyIsIm5zX3N0X2NsIjoiMCIsIm5zX3N0X2dlIjoiRGF5dGltZSIsIm5zX3N0X3N0IjoiV0ZMQSIsImMzIjoiaHR0cHM6Ly93d3cud2ZsYS5jb20iLCJjNCI6IipudWxsIiwiYzYiOiIqbnVsbCJ9fSwiaHRtbDUiOnRydWUsInRva2VuIjoiICJ9" width ="640" height="360"></iframe>
<iframe width="560" height="315" src="https://www.youtube.com/embed/rTXBiXbDZE0" frameborder="0" allow="autoplay; encrypted-media" allowfullscreen></iframe>
<iframe width="560" height="315" src="https://www.youtube.com/embed/QHValKMiJZM" frameborder="0" allow="autoplay; encrypted-media" allowfullscreen></iframe>